The Ambassador Club
The Ambassador Club is the SCGA Junior Golf Foundation's network of donors, volunteers, and supporters. In giving to the SCGA Junior Golf Foundation, you help us continue our mission of providing affordable golf opportunities to youth all across Southern California.
Become a member of the Ambassador Club with a minimum gift of $25. All Ambassador Club members receive personalized bag tags we hope you will display proudly.
SCGA has literally been there for me from the beginning. I feel like its my support system and an incredible program that I think everyone should be a part of. I'm an SCGA Junior Scholar and because of that it helps make college more favorable for myself and my family.
Ambassador Club Giving Levels

Legend – $10,000
Hall of Fame – $5,000
Grand Slam – $2,500
Major Champion – $1,000
Champion – $500
Medalist – $250
Leader – $100
Player – $50
Patron – $25
28,500
kids served
$3Million
in scholarships given

350,000
rounds of golf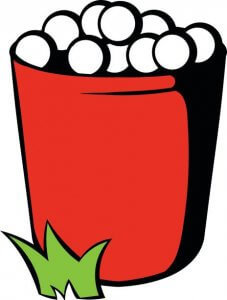 525,000
buckets of balls
Thank you to our Legacy Society
Anne & Vic Bartholetti
Dan & Kessie Cimino
Jean Duff
Bob & Mary Fischer
Steve & Joy Frank
Kevin & Kate Gigax
Bonnie & Ed Holmes
Suzanne Kelley
Bob Livingstone
Roger Lockwood
Marc & Patti Myers
Jeff & Karin Ninnemann
Ken & Rudelle Tan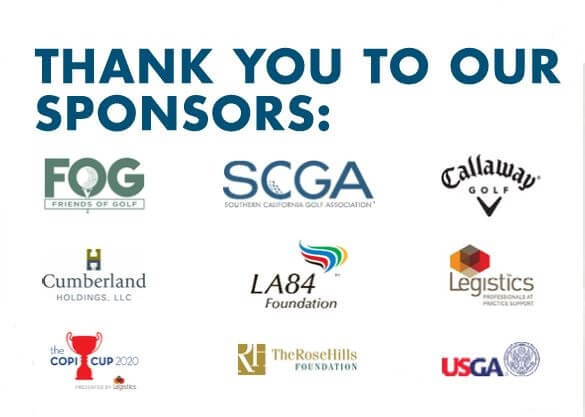 Patrick & Patti Baxter, Century Club of San Diego, Scott & Josie Chernoff, Daniel & Kessie Cimino, Jean Duff, Phil & Mimi Frengs, Friends of Golf, Suzanne Kelley, John & Sarah Kobara, Livingston Family Foundation, Matt & Melanie Lyons, Patricia & Marc Myers, Norris Foundation, Tim Reynolds, Seniors, Golf Association of Southern California, Schlinger Family Foundation, Dennis & Torre Sullivan, The Rose Hills Foundation, United States Golf Association, Robert & Sharon Veeh
Hall of Fame Circle $5,000+

American Golf Foundation, Joel Beth, Stephen Cha, Amanda & Richard Duffy, Al & Debby Frank, Kevin & Yvonne Heaney, Ed & Bonnie Holmes, Peter Jensen, Stephanie Lue, Malbon Golf, John Minnick, Patrick Munoz, Paul Porteous, Mike Postolache, Ron Proul, Richard Sandler, Roy Taylor, The Industry Hills Women's Golf Association, The LPGA Foundation, Dave Thompson, Tony & Gillian Thornley, Wadsworth Golf Charities Foundation, Steve & Carmen Waszak, Women's Sports Foundation
Grand Slam Circle $2,500+

Associated Women Golfers of Annandale, Benjamin Braun, Harvey Brown, Mark Caplow, Citizens Business Bank, Tony Cossa, Costa Mesa GC, Chuck Davis, Charles & Maureen Davison, Richard & Mary Doebler, Antonio Fontana, Jim Forman, James & Carrie Forsyth, Michael Gallagher, Kate & Kevin Gigax, John Hoffman, LA84 Foundation, Peter Mathes, Ray Mayo, Tim O'Neil, Bob Osborn, Malli Rao, Kemp Richardson, John Rogers, Arnold Rosenstein, Bob Summers, The Coeta & Donald Barker Foundation in Memory of Jim Richards, Torrey Pines Men's GC, Jim White, Harley Williams & Madi Kleiner
Major Champion Circle $1,000+

Alondra Park Men's GC, Keenan & Carol Barber, Anne & Victor Bartholetti, Craig Benjamin, Ben Berry, Ken & Susan Bien, Todd Brisco, Robert Buckingham, Dennis Canning, George Carney, Bruce Carson, Anthony Chiappetta, Club Replacement Golf, Robert Day, Todd DeAngelis, Christopher Deering, Del Sol Property Management, Neal Dem, Bill Eckholm, Richard & Peggy Eidson, Thomas Eunice, Launie Fleming, Josh Freeman, Brian Good, Carol Grosvenor, Hacienda GC, Allen Herman, Kathy & Harry Hughes, Chip Humphries, Jerrald Johnson, Anthony Kafesjian, Paul Kinnare, RJ Kosich, Peter Lannon, Soran Lim, Michael Malone, Bernard Markowitz, Bob Merette, Greg Meyer, Chuck Miller, Mission Hills  CC, Monarch E&S Insurance Services, Shelby Notkin, Ken Owens, Anand Patel, Pelican Hill GC, Buddy & Arline Pepp, Mark Pfeil, Ronald Ragland, Kris Raju, Jon Roberson, Louis Rosenmayer, Ron Scaffidi, Stone Eagle GC, Dave Swisher, Tony Tesoro, Justin Toner, Jim & Gail Vernon, Chris & Louise Wilson, Jim Yates
David Amador, Jonathan Axtell, John Bartman, Craig & Marion Benell, Birch Hills Women's GC, Kent Briggs, Vince Burns, David & Linda Cardwell, Keith Clark, Sid Croft, Megan Kathleen Drake, James Ellsworth, Ron Freese, Julie Gallant, Dennis Graves, Mike & Georgia Hamilton, David Hobby, Bruce Hochman, Fred Hoffman, Bill Johnson, Hae Yung Kim, Lake Arrowhead  CC, Bob Larson, Thomas Lindgren, M.D., Jane L Luke, Scott Lund, The Magic Castle, Kyle Mendoza, Mission Hills Men's Golf Association, Lisa Morsey, Lew Murez, Jeff & Karin Ninnemann, Old Ranch CC, Charles Perry, Bruce Poole, Rick Probst, Dick Rai, Rams Hill GC, Tom Reul, Clarke Rheney, Tim & Deana Riley, Alex Rose, John Rydell III, Scott Shagrin, Donald Sirney, Scott Solomon, Jilleen Stelding & Shayne Fraeke, Steve & Kim Titus, Rebecca Webb, Paul Woody, James Yates, Yorba Linda CC
Tom Addis, Ken & Paula Alban, John Allavie, Mark Allen, Mark Allison, Kenneth Alperstein, Andy Anderson, Martin Appel, Liz Argue, Larry Atlas, Joseph Barr, Blacklake GC, Larry Bonzoumet, Bob Bowne, Steve Chavez, Ted Coyne, Crossings at Carlsbad, Marion Darling, Jeffrey Davies, Jeff Davis, Ric Delrosario, Brendan Diette, Bill Duggan, Encinitas Ranch GC, Lowell English, Irwin Field, Andrew Frank, Bert Ginsberg, Gods &Heros Salon, Robert Gordon, David Grattan, Bob Grimsley, Lynne Haraway, Robert Haworth, Matt Herman, Carl & Lois Hickey, Susan Hoffnagle, Jack Hudes, Richard Joseph, Hunter Kenihan, Shelley Klick, Daniel LaFleur, Eugene Lai, Matt Langley, David Lebowitz, Doug Lennig, Bob Livingstone, Scott Macdonald, Keefe Marrs, Jack Marshall, Jim Milam, Mission Viejo CC Women's GC, Paul Molakides, Dan Moye, David Philipp, Phil Queller, Rancho San Joaquin GC, Peter Ridder, Bob Ritzau, Edgar Rouhe, Robert Schneider, Peter Schwab, Rick Sessinghaus, Warren Shafer, Steve Shedd, Parker Steel, Keith & Sarah Stottlemyer, Donna & Ronald Sylvestri, Ryan Warner, Laughlin Waters, J.E Weeks, Pamela Wetton, Alan Wiener, Todd Wunderlich, Zach Yager, Eugene Yang*, Shanshan Zhao, John Ziello
Bryan Aasen, Laurence Abramson, Chip Adkins, Bob & Jeannie Alban, Almonsor Women's GC, Steven Andercyk, Ryan Andrews, Nick Arakelian, Warren Arnett, Arrowood GC, Brett Arsta, Stephen Asaki, John Ashworth, Brandon Bauch, Richard Beckman, Michael Betancourt, Curt Biren, Laura Bishop, Wendie Bishop, Keith Bishop, Charles Blane, Craig Blunden, Bibiana Boerio, Jonathan Brandler, Sandy & Nancy Bresler, Jo-Jean Budd, Duncan Burrows, Steve Cairncross, Barton Campbell, Richard Canales, Barbara Card, Percival Carungay, Coquis Casavantes, Dianne Celuch, John Clark, Hugh Colvin, James Conkling, Chris Conway, Tim Crass, John Darnell & Emma Chen-Darnell, James Davidson, John De Gomez, Mike Diette, Dennis DiLaura, Dave Drury, Don DuBois, Jay Dunesme, Jena Eaves, Joe Eckhardt, Stephen Eimers, Eva Elkins, John Ross Ellis, Harvey Englander, Jon Finley, Kristen Fischer, George Fisher, Kevin Fitzgerald, George Folkes, James Fornaca, Stephanie Fox, Steven Frichette, Jackie Fromm, Joseph Furnish, Clare G. Ittner, Garb Alternative Sportswear, Inc, Franklin Garfield, Anne Garrett, Scott Gaudineer, Richard Gaugler, Sal Gaytan, John Given, Michael Glickfeld, Pat Gobler, Karl Hamilton, Jamie Harada*, Brett Hauser, Orlando Hernandez, Tom Hodgins, Bill Horsfall, Jesse Hulsey, Barbara Huston, Nicholas Incardona, Mike Irvine, Robert Janko, Ed K, Ronald Kabrins, Douglas Karney, Richard Katz, Michael Keane, John Kelleher, Brian Kim, William Kincannon, John Kontak, Peter Koplik, Gerald Kouzmanoff, Tobin Koziol, John Kwon, Kerin Lau, Dennis Lause, Richard Levy, Paulette Light, David Loew, Scott Longhurst, Francis Maas, Michael Maas, Candace Mar & Kenneth Philipson, Julia Martz, Mark McArdle, Debbie McCorkle, Scott Miller, Roger Mont & Nicole Vigil, Margaret Morse, Jeff Mundy, Susan Nathan, Frank Newell, Richard Nordlund, Butch Nungesser, Origins Golf Design, Ruben Padilla, Nori Parvin, Victor Person, Vienna Peterson, Robert Portman, Dan Pouliot, Rick Powell, Bill Pultz, Kathy Quock, Kirk Reese, Michael Robin, Tim Ryan, John Rydell II, Thomas & Betty Saliba, Eric Salsa, Michael Sanchez, Santa Anita GC, Les Saul, Mary Schetselaar, Michelle Schmidt, SCPGA, German Sevilla, Geoff Shannon, Kath Shinkai, Mark Sider, Greg Sidlo, Gary Singer, Barbara Skubick, Jeff Skubick, Richard Slater, Bruce Smiley, Bob & Irma Smith, Jessica Smith, Steven Snyder, Glenn Southard, Charles Spiegel, Helena Stanton, Allen Steiner, David Stivers, Andy Stromwall, Kathy Takemura, Karla Talavera, Ken & Rudelle Tan, Alan Taylor, Martyn Temple, Joe Terrazas, Blake Todd, Dan Toomey, Tommaso Trinchieri, Bob & Kim Tucker, Hailey Tucker, Urban Golf Performance, Linda Venanzi, Rolando Ventura, Denis Vossler, Jerry Waletzko, Sean Webb, Robert White, Ed White, Pat Wilke, Mike Willette, Carrie Williams, Bronwyn Wilson, Ronald Winkle, Rob Winkle, David Yambao*
Mark Acosta, Richard J. Agostinelli, Elenilzon Aguilon, Blake Alban, Nelson Algaze, Tony Avarello, Bianca Avina, Wesley Baba, Julieta Babasa, Greg Baird, Luke Basile, Luke Basile, Felipe Bautista, Timothy Beans, Jerry & Josie Becraft, Greg Bell, Jacquelyn Belt, Adam Beltran, Margaret Bennett, Chris Berg, William Berg, Arun Bharath, Osbourne Blake, Blake Bolton, Michael Brandolino, Riel Brantley, Nick Braun, Jim Brewer, Dave Brooks, Keith Brown, Matthew Brunetti, Leslie Bruvold, Al Butkus, Craig Calkins, Matt Cardis, Kathy Carlisle, John Catalano, Prudencio Cervantes, Monica Cha, Nicole Chang, Lundi Chea, Jerome Coben, E Coleman, Perry Colligan, Steve Collins, Ed Colson, Gary Cowles, Steven Cox, Sara & Asher Craven, Jeff Crosier, Andres Cuamani*, Joni D'Amato, Dave Davidson, Robert Davis, Bill Davison, Randy Davison, Doug Dickey, Jim Dilamarter, Tom Doran, Matt Dotson, Jeff Draa, Laura Drechsler, Greg Drobnick, Rendel Edmonds, Jim Enderle, Tammy Evans, Robert Fasching, Justin Francisco, John Fitzgibbons, Chris Frame, Steve & Joy Frank, Tim Fyffe, Lauren Gabriel, Dean Garbutt, Josephine Garcia, Paul Garcia, Milt & Rosie Gigax, Susan Gilbert, Ted & Alicia Gleason, Bob Glenn, Guillermo Gonzalez, Cheri Grimsley, Kathy Gustafson, Joseph Guzman, Steven Haasis, Ann Haddad, Rose Hall, Ronald Hansen, Keith Helgevold, Janice Histon, Darold Holten, Bob Hoover, Wayne Howard, Jim Hurst, John Isely, Howard & Carol Jacobson, Herbert Jennings, Ruben Jimenez, Jeffrey Johnson, Roger Jones, Edmund Jung, Susana Kim, Claudine Kim, Maureen Kohli, Denise Kouba, Harry Kuemmerle, Kathy Kurata, Anthony Lavasseur, Nyal Leslie, Mark Levine, Pala Liechty, Qingxiang Liu, Rick Lorfing, Marcy Luikart, Ken Matsunaga, Wil Mayo, John McCarthy, Griffith Mcdaniel, Lance Mellring, Maria Mendoza, Men's GC of Hasley Canyon, William Meskew, Regina Millard, Andy Miller, Steve Mills, Michael Miyasaki, Brian Mooney, Craig Morelan, Brian Moreno, Matthew Murawski, Mike Murphy, Stephen Novarro, Dan Oh, Joseph Olvera, Bowen Osborn, Jim Oslund, Susan Osuna, Matthew Parker, Thomas Passios, John Pate, Johny Pearson, Elizabeth Peinado, Alexis Pham, Doug Philbin, Jim Plotkin, Roy Profitt, Jeremy Read, Raymond D Renner, George Reyes, Philip Rizzo, Eugenie Rogstad, Patrick Rohan, Karen Rothove, Shirley Rude, Keith Ryan, Richard Saenz, Michael Saphier, John Scavo, D Schultz, Mark Sear, Nicole Seikaly, Steven Seislove, Richard Selberg, Michael Sepe, Kathy Simmons, Douglas Slabaugh, Mike Spahr, Brad Stewart, Robbie Stuart, Alex Stuckert, Joanne Stuetz, Sebastian Sturdevant, Jim Sturon, Stefanus Suharli, Jim Susha, Joe Szabados, Bob Tamkin, Raymond Tanner, Fenton Taylor, Temeku Hills Men's GC, Rob Thompson, Harlan Thompson, Fran Thompson, Barry Thurston, Ryan Todey, Gary Townsend, Ronnie Tyrrell, Robert Vargas, Jackson Vause, Drew Venkatraman, Jerry Vulgaris, Raymond Wagenknecht, Walter Waite, Brian Watts, Yuntian Wen, Devin Whipple, Samantha Widdicombe, Glenn Williams, Robin Williams, Jeff Wilson, Raymond Winkowski, Mark Wolocatiuk, John Wurdeman, Mike Zambri, John Zar, Maricela Zúñiga
Miguel Abramowicz, Cynthia Aguilar, Francisco Aguilar, Francisco Almaguer, Schakim Ammarah, Joshua Anderson, Sandra Anderson, Kyle Arbaugh, Ronald Arias, John Ashworth, Richard Atlas, Matt Aylward, Michael Bagerna, John Ballew, Christopher Barbour, Jim Barr, Brian Bart, Jimmy Becker, Donald Becker, Jerry & Josie Becraft, Jane Bender, Jack Berutich Jr., Terry Black, David Boew, Curtice Booth, Nick Bradley, Ken Bradshaw, Sibylle Brinkman, Steve Browne, Jon Bujan, Deirdre Burrell, Jerry Butt, Kenneth Cain, Antoinette Cajigal, Chuck Campbell, Vern Cannon, Raymond Carmen, Natalie Castillo, Mike Cellura, Angie Charky, Dean Chavez, Cathy Chidester, Amit Chopra, Alan Chuang, Harry Clement, Mike Clements, Jacob Cohen, Jay Coleman, George Coley, Bill Conlin, Daniel Corwin, Gary Cowles, Barry Coy, Susan Crawford, Steve Cribari, Joseph Czegledy, Marion Darling, Robert De La Cruz, Ruby Del Carmen, William J. Demint, George Demos, Jospphine Demos, Dave Deno, Jeannette Devlin, Doug Dickey, Bang Dinh, Desiree Dominguez*, John Dwyer, Rendel Edmonds, Christopher Ellis, Jim Enderle, David Evans, Craig Evans, Jeremy Evans, Chuck Felder, David Fernandez, Kevin Fitzgerald, Boyd Flinders, Jonathan Flores, Jonathan Flowers, Robert Fogarty, Terry Ford, Mark Forman, David Forman, Richard Fowler, Tammy Franco, James Franson, Scott Frantz, Rob & Ellie Fronauer, Joseph Furnish, Laura Falindo, Daniel Gallagher, Johnnie Garcia, Wayne Gaudet, Richard Gaugler, Edward Gerpe, Conrad Glewicz, Scott Goedecke, Alan Goldstein, David Gonzalez, Dolores Grayson, Arthur Greenerg, Garrett Gregor, Linda Griffey, Tom Hall, Rick Halsey, Ronald Hansen, Mark Harding, James Harkness, Tom Harris, Mike Hazard,  John Head, Steve Hendry, Shana Hernandez, Orlando Hernandez, Kathryn Herrera, Chris Herrmann, Marlene Holston, Floyd Hughes, John Isley, Arturo Jacinto, Alan Jackson, Rickey Jefferey, Jason Johnson, Linda Johnson, Brent Jones, Saahil Karpe, Taylor Kasch, Peter Kay, Richard Kennerly, Claudine Kim, Keith Kinsel, Stan Kinsey, Graham Kirkham, Richard Knee, Mary Ellen Knowles, Kim Kong, Glenn Kormann, Lisa Krill, Mark Kuhn, Rich La Brie, Steve Lane, Steve Lass, Greyson Leach, Yu Op Lee, William Leming, Frank Lezaja, Fernando Linares, Patrick Lindsay, Josh Lipman, Earl Little, David Locke, Michelle Long, David Long, Josiah Loughrige, Truc Ly, Tommy Mach, Ray Majcherek, Ranjan Majumder, Craig Martineau, Rudy Martinez, Alex Massari, David McBride, Steve Mccabe, John McCarthy, Paul McCulley, Steve McDaniel, Kay McElrath, William McGaughey, Michelle McNeff, John Meanley, Steve Mejia, Steve Mendoza, Manuel Mendoza, Jo Ann Michetti, Michael Mier, Margaret Miller, Harold Mills, Noah Mirza, Todd Moffett, Sean Mogridge, Ursula Moore, Alezander Mora, Craig Morelan, Victoria Morton, Sunny Moss, Keith Mottram, Kevin Mulligan, Tim Murakami, Peter Murphy, Jane Na, Tetsuya Nakao, Yuri Navas, Keith Nielsen, Kotaro Nishimura, Jim Noel, James Norman, Carolyn Norton, Jeff Novak, B. Nozawa, Dane & Kathleen Nygaard, Jeffrey Okamoto, Ryan Olson, Archie Ordonio, Jeff Ornstein, Alan Ortiz, Eugene Osher, Cathy Ostiller, Arni Osvaldsson, David Pacifico, Tony Padilla, Teri Palazuelos, Greg Palmer, Carminia Panlilio, Rebecca Paris, Troy Parish, Dennis Parry, Connie Pasterkiewicz, John Pate, Andrew Peltz, James Pena, Jonathan Perez, Philip Peterson, Jeff Petrin, Stewart Pickell, Michael Pineau, Jim Plotkin, Juan Pope, Wes Porter, Louie Pozzebon, Michael Preston, Nick Punto, Adrian Quintero, Raymond Ramos, Mike Raumschuh, Edward Redd, Jerry Reed, Richard Reid, Brett Rice, Donald Richards, Stephen Richter, Marilyn Robotti, Patrick Rohan, Al Roth, Ann Ruane, Shirley Rude, Cha S, Monica Sajor, Armondo Sanchez, John Scavo, Ed Schechter, Michelle Schmidt, Michael Schulman, Ronald Serrato, Keith Shill, Tricia Shoemaker, Denis Shurko, Lorena Sierra, Richard Simonin, Jeff Simonson, Douglas Slabaug, Eric Smith, Gregory Smith, Josh & Taliah Sofaer, Sherry Soto, Glenn Southard, Mike Spahr, Stephen Spear, Don Spradlin, Don Stichler, Rich Strattan, Leah Stuart, Alez Stuckert, John Sturges, Fred Styles, Robert Sullivan, Cristopher Sunada, Joe Szabados, Rick Talt, Joe Tanner, Albert Taylor, Bill Thompson, Levon Tillery, James Tindaro, Jon Tisdale, Andrew To, Bill Tolmachoff, Ron Tom, Noulan Traquena, Michael Turner, United Way of San Diego County, Will Urie, Gary Urtiaga, Robert Vargas, James Vellutato, Claudio Vilchis, Robert Vine, John Vojtas, John Wagstaff,  Sorya Waite, John Walkington, Robert Waller, Donald Walls, Farley Washaw, Janice Warshaw, Ronald Weiss, Marc Weiss, Harry Whelan, Devin Whipple, Stacie Ashley Williams, Jeff Wilson, Dave Wilson, Ronald Winkle, Angela Woo, Gordon Yamamoto, Ethan Yen, Doug Yoder, Sam Young, John Zamaria, Darien Zhao, Alex Zimmerman
* denotes SCGA Junior Scholar Alumni